25 April, 2018
New additions for Salone del Mobile 2018
Once again, Viccarbe has chosen the unmissable Salone del Mobile furniture fair in Milan to present its new designs for 2018.
The Valencia-based furniture manufacturer is staying true to its vision of creating warm, timeless, contemporary pieces, this time unveiling new additions by the renowned creators Patricia Urquiola, Jaime Hayon and Ludovica & Roberto Palomba. They are all returning as designers for the Viccarbe collection.
TORII BENCH – by Ludovica + Roberto Palomba
With its pure and timeless lines, Torii takes both its name and its form from traditional Japanese culture, making reference to the arches, normally found at the entrance to Shinto shrines, that embody the frontier between earthly and sacred matters.
The new bench designed by Ludovica + Roberto Palomba is distinguished by its multifunctionality and use, as it is typically placed in collaborative spaces and it can also take many different possible finishes (colours, upholstery and electrics). It can be set to the same height as a chair, which means it can be used next to desks or work tables.
In the words of the designers themselves:
"Mediterranean design is characterised by being rooted in its values. Torii is not a project that aims to surprise you with details; the baroque style has long gone. It has no need for ostentation because, like the Mediterranean culture itself, this new design is based on simplicity and pure essence."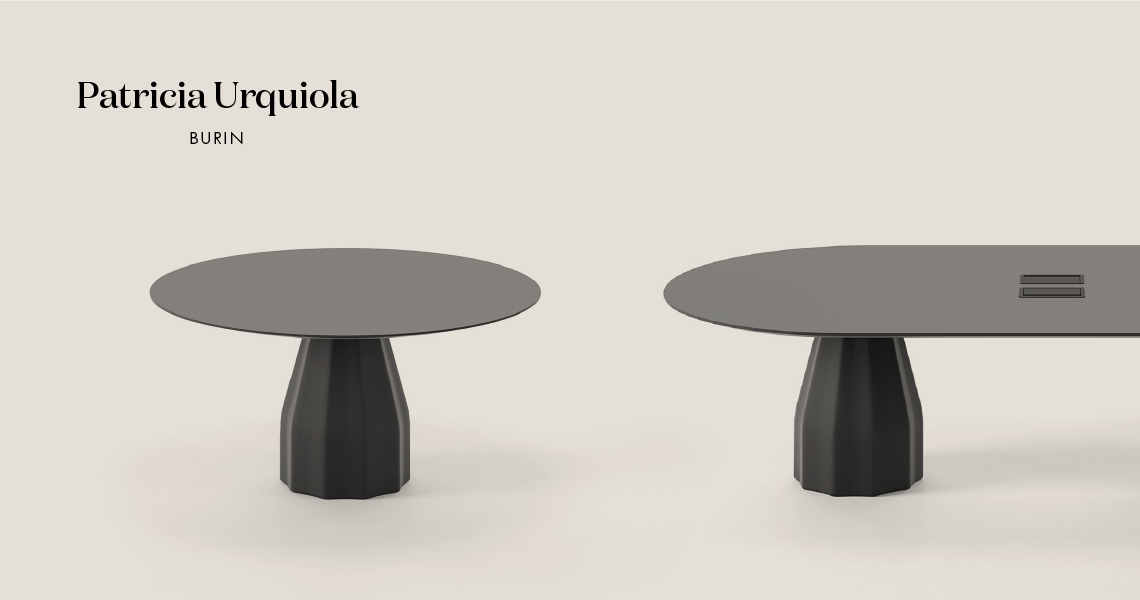 NEW BURIN TABLE – by Patricia Urquiola
Burin is a symbolic tribute to traditional wood carving tools. The unmistakeable silhouette of the base runs through this extension of the collection to include a new table with a central base, available in different heights and a double version for large surface areas. Conceived for both homes and community spaces, the new Burin table gives continuity to the family that was launched in 2011 with the side table designed by Patricia Urquiola.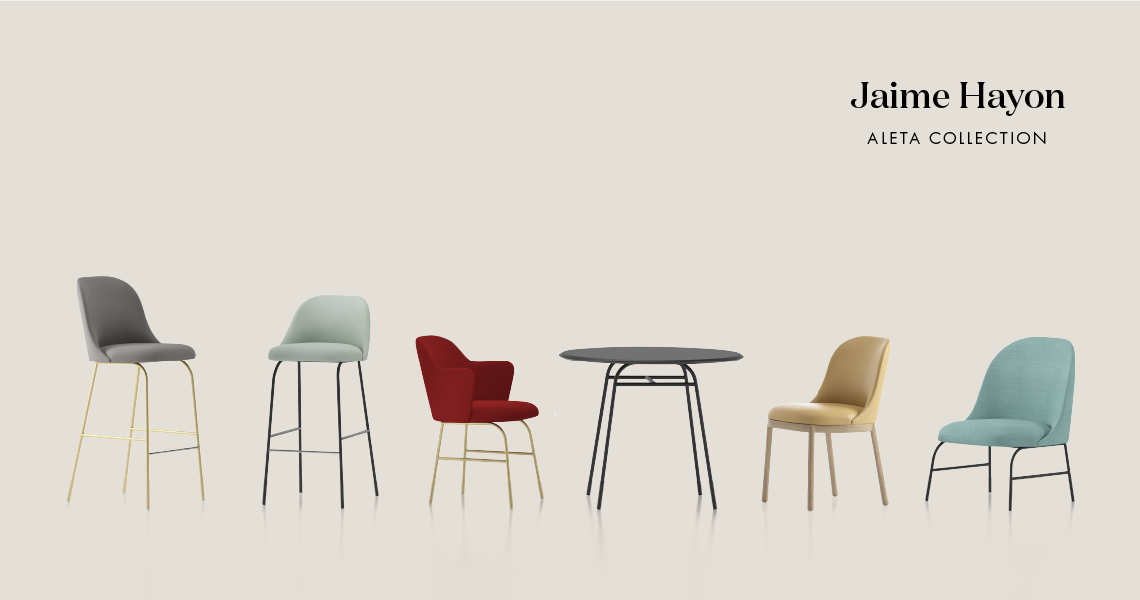 ALETA LOUNGE CHAIR, BISTRO TABLE AND CHAIR WITH ARMS – by Jaime Hayon
The personality and distinctive character of Jaime Hayon remain present in this extension of the successful Aleta family, which is inspired by the appearance and movement of sharks. It has expanded to include a new lounge chair, a bistro table and a chair with arms, available in several heights and finishes and perfect for collaborative spaces that require great comfort.
KEEL SHELVES – by Víctor Carrasco
The new Keel shelves, with their sculptural essence, join the ViccArte family with a fluid, elegant and timeless form. These pieces, which are inspired by the shape of a boat's keel, are made in solid oak and emerge smoothly from the wall, like an exercise in reflection on functionality and art. The infinite possibilities of its graphic compositions enable the creation of facilities not just for placing books, objects or photographs, but also providing a support for any type of shelf.
"No illness is harder to cure than habit; that is what I avoid in my designs. It's easier to complicate things than to simplify them.  Simple, functional shapes enter the mind more quickly and last longer." – explains Víctor Carrasco, the founder of Viccarbe and creator of the new Keel shelves.
GIRO & BAMBA SIDE TABLES – by Pedro Paulo-Venzon
Viccarbe has added Giro and Bamba to the exclusive collection, ViccArte. Through these two new side tables, the young talent from Brazil, Pedro Paulo-Venzon, proposes a redefinition of the perspectives that design usually works with. On this occasion, in shaping these two pieces, their creator has taken inspiration from the borders between the local and the global, tradition and modernity, industry and art. This contrast has remained a constant throughout his work.